Details

Category: Seminars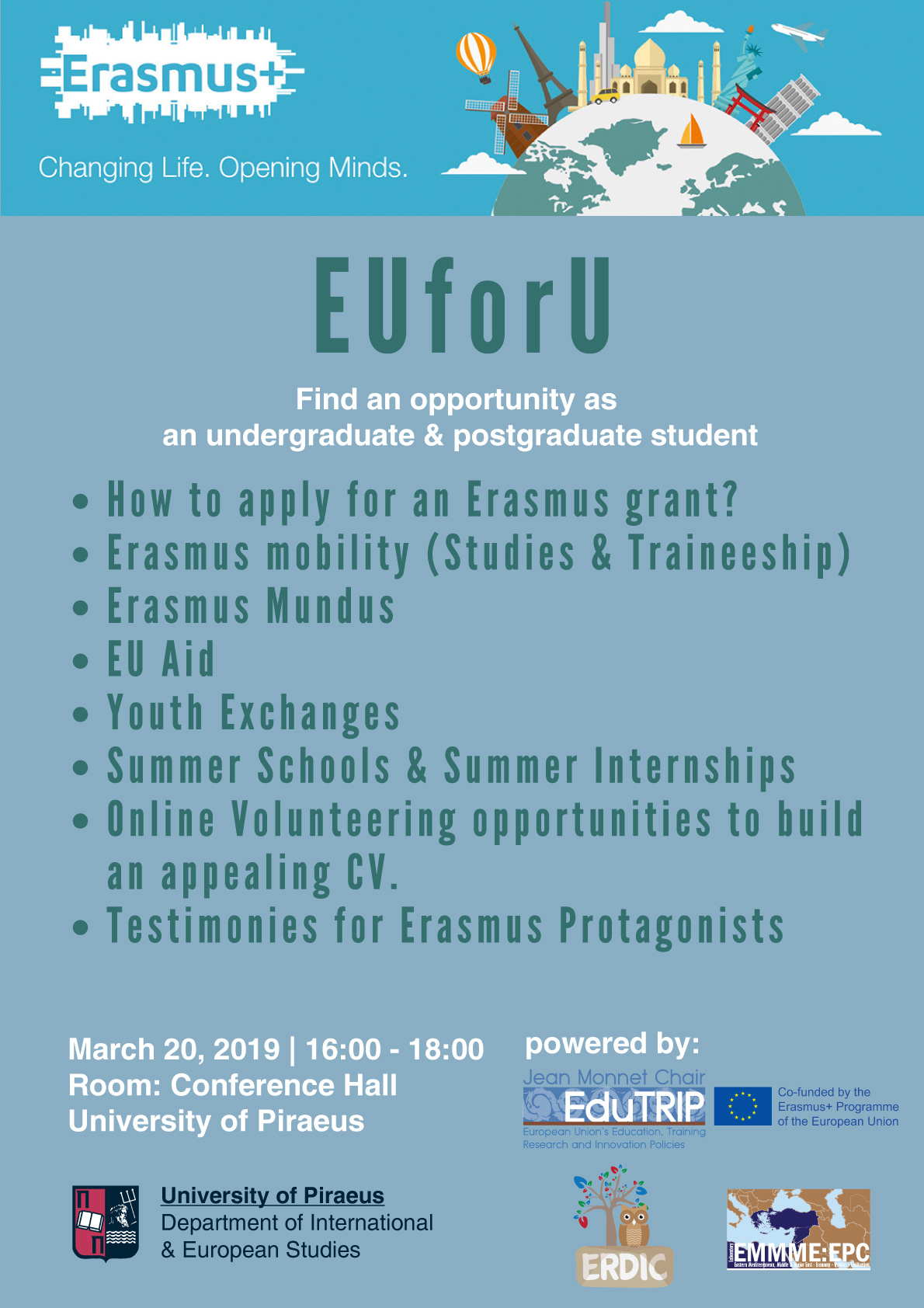 The Jean Monnet Chair on European Union's Education, Training, Research and Innovation Policies, the Laboratory "Eastern Mediterranean, Middle and Major East: Economy - Politics – Civilization", the Laboratory of Education Policy, Research, Development and Interuniversity Cooperation (ERDIC) of the department of International and European Studies of the University of Piraeus, in cooperation with the International Relations Office of the University of Piraeus, conducted a seminar for undergraduate and postgraduate students regarding mobility opportunities for education, internship, joint master degrees, volunteering and scholarships, on Wednesday the 20 th of March, at 16:00-18:00, in the University of Piraeus premises.
Participants in the seminar:
Dr. Christina Kontogoulidou for the Erasmus+ program, Erasmus+ International Credit Mobility, Erasmus Placement and the scholarships of the German Federal Parliament.
Sofia Mastrokoukou for the preparation of CV, motivation letter, EU Aid, summer schools and internships.
Foteini Asderaki, Associate Professor and Jean Monnet Chair on European Union's Education, Training, Research and Innovation Policies, spoke about the associations of the political scientists (UACES, ECPR, HAPSc, etc.), conferences, summer schools, scholarships from the State Scholarships Foundation (IKY), HFRI, DAAD, Fulbright, French institute, foreign governments and bequests, internships at CERN and at International organizations and European institutions and agencies, as well as the Euraxess portal for the young researchers and the mobility of the Jean Monnet Centre of Excellence "Excelem".
Live broadcasting with Uganda and Konstantinos Maragos from WE AfriHug and EMA Greece – Erasmus Mundus Association Greece.
Dimitris Maragos, Team Europe and Konstantinos Maragos, spoke about Erasmus Mundus and youth volunteer programs.
Spyridoula Loukopoulou made a presentation of the I Choose Europe campaign.
Georgia Plataniti presented her experiences through her internship.
The seminar also contained a presentation by a Kenyan student, who conducts his Erasmus program in Greece.