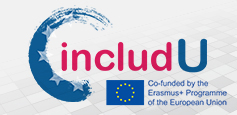 The Laboratory of Educational Policy, Research, Development and Interuniversity Cooperation of the Department of International and European Studies of University of Piraeus held a two-day youth festival as part of the Erasmus+ - Jean Monnet European Programme "Include European Union Values - IncludU, 2016-18", attended by 18 Lyceums from all over Greece and coordinated by Assistant Professor Foteini Asderaki, Jean Monnet Chair on European Union's Education, Training, Research and Innovation Policies, Department of International and European Studies, University of Piraeus.
IncludU focuses on the fundamental values of equality, tolerance and non-discrimination in the EU and attempts to address the sensitive issue of receiving refugees and integrating them into European societies through interactive and experiential workshops as well as innovative educational materials combining ICT, games, art and the exchange of ideas and experiences.
IncludU aims to create an interactive environment through which universities, schools, youth non-governmental organizations, municipalities, regional authorities, cultural organizations, citizens with family experiences of refugee and refugees, volunteers and pupils will be sensitized will discuss and participate in building a democratic and global-oriented Europe, united in the context of its cultural diversity and enriched through it. This is why educational training seminars have taken place in Thessaloniki, Mytilene, Nea Smyrni & Piraeus, with the involvement of all the above carriers.
On November 2nd and 3rd, University of Piraeus hosted 10 Lyceums and the "Pnoi Agapis" College from Albania, a total of 200 students and 31 teachers who presented their actions and participated in a series of activities co-organized by students, Erasmus students and pupils on common values, culture, refugee integration issues and actions to help young people learn more about the European Union and improve mutual understanding among the European citizens, through respect and promotion of cultural and linguistic diversity, while contributing to intercultural dialogue.
Further information on the programme and material from the actions can be found at the following links:
https://el-gr.facebook.com/includu/